I managed to break free from my handcuffs, but alas I still cannot escape ;)

Moo cat is my only companion.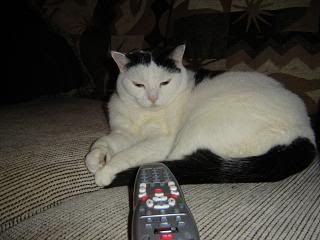 and she likes to hog the remote ;)

I am having fun and
lexslave is keeping me extremelywell fed. Yesterday I ate 2 burritos, and a ton of cheesecake. These malls are fucking huge it's like Cardiff city center under a roof. Went to hot topic, bought a corset, which doesn't fit. WTF I mean in the UK my top half is a 16, so 14 in US sizes so surely an XL would fit???? Anyway I'm keeping it, cause it's so pretty and it was cheeper than anything I could buy in the UK.

We went grocery shopping which was really exciting for me anyway, got ice cream yay! At some point we're going to see where Cornal Saunders is buried. I'm hoping to get some post cards for the saps at home hehe :) Hot topic ones were not something I could send my grandmother.

Damned kid upstairs is practicing sprinting for the olympics I think. Grrrr...